Website:
www.BidPigs.com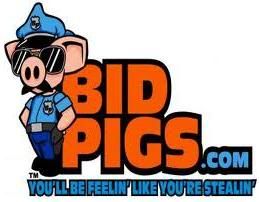 Prices:
Between $0.55 - $0.67 per bid
Auction Features:
-Points Store
-Auto Bidders (BidHogs)
-Beginner Auctions (Piglet Auctions)
Contact Information:
Bid Penny Review:
Site: 9.0 / 10
Customer Support: 7.9 / 10
Products: 7.0 / 10
Comments:
I love the BidPig logo and the varity of cartoon pigs. The charactors makes the site a little more exciting than the typical penny auction site. BidPig offers a number of different types of auctions including: Pigpenny, Hog Free, Piglet, 100% off, Fixed Price, Open, Lunch Break, PiggyPalooza, and Reserved Auctions. One thing I do not like about BidPigs is that you can only purchase bids via PayPal. However, I do love the points store. You can earn points while participating in auctions and then use those points to purchase products from BidPig's store. The only method of contact is via email. The response time is within 24 hours, which is much faster than other companies. However, I would like to see at least 2 forms of contact. I would also like to see a greater verity of products in their auctions. It seems that BidPigs sells mostly bid packs and gift cards.